116AL
Meets ANSI A156.4 – Grade 1 Standards




UL Listed for "A" Label 3 Hour Fire Doors, UL10C Positive Pressure Rated




Meets ADA requirements ANSI A117.1




Heavy Duty Cast Aluminum Closer Body with Rack & Pinion Construction



SD-C101-SBAQ
Door Closer - Heavy-Duty

Door width: 32"~60" (800~1500mm).




Door weight: 45~330-lb (20~150kg).




Tested to ANSI 156.4 (2 million life cycles).




Silver finish.




Decorative plastic cover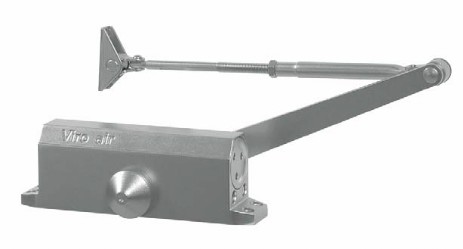 AIR
Door Closer 45Kg (100 Lb)

Universal installation for wooden or metal doors both right and left-hand.
Can be installed either on the door (standard installation) or on the door jamb (reverse installation).


Body: one piece painted pressure-cast aluminum.


Steel arm that allows a stroke of approximately 80 mm. (from – 10 mm. to + 70 mm.)


Adjustable hold open: by means of an internal device.


The door can be manually blocked in any position between 90° and the maximum opening angle.


Regulating valves for closing speed and latching speed.


The valves can be easily reached from the outside, without removing the doorclosers.