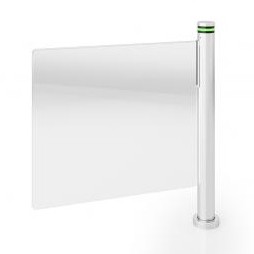 Winglock Swing
Sleekest gate on the market today. Constructed from stainless steel and a single glass panel, the lane is elegant and unobtrusive in nature and design. The access gate is designed to manage bi-directional traffic with ease, using smart, intuitive technology to guide each visitor through to their destination without delay or inconvenience.

Trilock Side Gate
Sturdy Gateway for Special Needs
The Trilock Side Gate compliments Boon Edam's tripod turnstile and optical turnstile models to allow access for those with special needs or the passage of dollies or carts. Choose from a variety of finishes to match adjacent turnstiles or surrounding décor.
Column Swing Turnstile
TURNL50
Size: diameter 168mm, height 1035mm
Unlock Time: 0.2s
Entrance Speed: ≤35 people/min
Arm size: 600mm
Input Voltage: 110--220VAC, 50HZ
Working Voltage: 24VDC
Material: 304 Stainless steel
Small Swing Turnstile
SWINGL500
Unlock Time: 0.2s
Entrance Speed: ≤35 people/min
Entrance Width: ≤800mm
Input Voltage: 110--220VAC,50HZ
Working Voltage: 24VDC
Material: 304 Stainless steel