Doorline DR-200-MT

Door entry panel with push button connects to telephone line by 2 wires and allows opening of the door from every telephone in the house.

> Brochure



TX3-200-4U
Telephone entry system for up to 200 Users

Slim design is ideal for applications with limited space, or for applications where a separate directory exists or is not required. Surface, semi-flush or pedestal mounting options (Optional adapter plate required to mount to a standard gooseneck post)

> Brochure


TX3-2000-8U
Telephone entry system
for up to 2,000 users

Large scrolling 8 x 20 LCD display, Backit 16 digit keypad with dedicated operational buttons for Page Up, Page Down, Call and Info. Universal enclosure supports surface, semi-flush or pedestal mounting options (Optional adapter plate required to mount to a standard gooseneck post)

> Brochure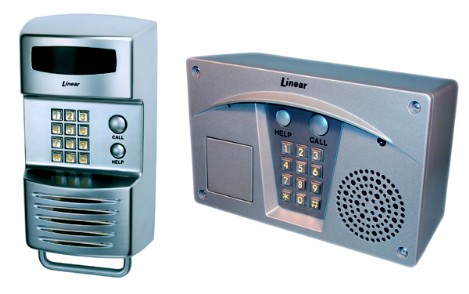 RE-1N / RE-2N
Single home Tele-entry

Residential telephone entry system capable of sharing an existing phone line, a dedicated line, and dialing out up to 3 additional off site numbers or used as an intercom; integral keypad used to accept entry codes; integral radio receiver will accept signals from block coded transmitters; built-in clock calendar; voice prompts; accepts one remote keypad; provisions for dealer installed (not included) Knox switch; telephone bypass switch.

> Brochure


AE-100
Telephone Entry System with 125 tenant capacity.


125 directory or personal entry codes


Supports up to four AE-100s on shared telephone line


LCD display: back-lit, 2-lines, 16 characters per line, 0.3" height


Call and directory scrolling buttons;


Optional, field upgradable color camera


Brushed stainless steel front panel


> Brochure


EL1SS
Telephone Intercom and Access Control System

Features


Connects directly to the existing residential home phone line.


Stainless steel faceplate with black powder coated housing.


200 (4-digit) unique, programmable entry codes..


> Brochure


EL2000SS
Commercial and Gated Community Telephone Entry System


2,000 Users Capacity


5-inch backlit LCD screen


4 lines with 20 characters per line display


Up to 2,000 totally flexible codes.


Codes can be programmed as directory codes or access codes


> Brochure